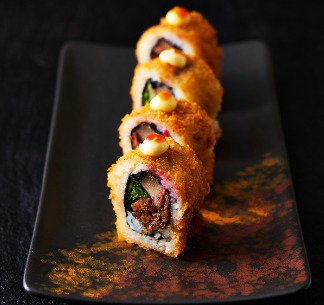 Hale Country Club teams up with Myprotein to launch new restaurant menu
24-04-2023
Hale Country Club has launched a brand-new menu at its Pan-Asian restaurant, Fuzen. The menu includes a high protein offering, created in collaboration with world-leading sports nutrition brand, Myprotein.

Named Myprotein Kitchen, the exclusive high protein offering was created by Myprotein's nutritionists and Hale Country Club's expert Head Chef to help guests fuel an active lifestyle and hit protein goals. Hale Country Club is the only location that has a menu of this kind. It was first launched to Hale Country Club members and is now available to all guests and restaurant goers.

Favourites include:


Myprotein Kitchen is just one element of the new menu launch. Hale Country Club has also refined its restaurant menu to provide an unrivalled dining experience. From brunch to dinner, the Fuzen menu has something to complement every occasion.

The menu has been curated to cater to all guests, with a range of dishes on offer to suit every appetite.

For a lighter way to experience the new menu, Fuzen offers a number of grazing dishes which are ideal for sharing or accompanying other dishes. These include BBQ Korean chicken, salt & chilli squid, and crab tacos.

For something more filling, guests can also choose from a collection of burgers & sandwiches like the teriyaki steak sandwich, waygu beef burger and crispy bean burger. Each is a taste sensation in its own right and comes with a side of hand cut chips, skinny fries, sweet potato fries or a house salad.

A staple at Fuzen is the sushi menu. A true showcase of the chef's creativity, guests can order from a range of options including sesame tempura tofu Cali roll, Hale crunch roll and torched salmon roll.

A new addition to the menu is the delicious sushi bites. The mix and match offering means guests don't have to pick and choose between their favourites and instead can try a bit of everything.

The new menu and Myprotein Kitchen menu can be found on the Hale Country Club website, where guests can also book a table to dine.